Here's a story that happened a couple of years ago about my male Congo African Grey (CAG), Opaa: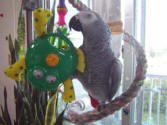 After a hard day at work, I sat down at my computer to read my email with Opaa sitting on my leg where he was totally content preening. The next thing I knew, I fell asleep with my head tilted back resting on the back part of the chair with my mouth open. My wife, who was sitting on the couch nearby, told me what happened next.
Opaa must have thought I had died or something, because he started making a weird type of whistle she had never heard before while he was climbing on top of my chest. Once there, he started to regurgitate into my open mouth and all over the whiskers of my goatee. It wasn't until my wife woke me up that I realized what happened. It really didn't taste too good.

Based on the eye-pinning, head-bobbing reaction of Opaa once I awoke, I assumed he was pleased that he had brought me back from the dead!

Steve