Toys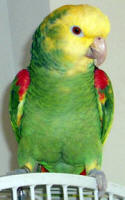 Busy Beaks bird toys are veterinarian approved and loved by parrots of every size from literally all over the world. We're proud to offer Aronico, Art by Ludo, Bell Plastics acrylic bird toys, Bizzy Birdy Playthings, Busy Beaks Toys, DVDs and books by Barb Heidenreich plus other published authors, and Caitec, Featherland Paradise, Featherland Toys, Fun Max Bird Toys (Zoo Max), Happy Beaks Toys, Life's Great Products, Poop Off, Mighty Bird Toys, Molly's Bird Toys, Nature's Instinct, Bagels & Bogglers, Paradise Bird Toys, Planet Pleasures, Polly Wanna Pinatas, Super Bird Creations, and Wesco Bird Kabobs. Whew ... and so much more ...
Busy Beaks are Happy Beaks™!
Only Bird safe items are used in the construction of our toys. All woods are untreated and colored with USDA approved food colorings. All other items are of the highest quality available, including natural short fiber sisal, 100% pure cotton rope, vegetable tanned leather, 100% cotton fabrics, high impact acrylic beads and closed link chain.
Although our toys are made with the best materials available, please use common sense and give your FID's "parrontal" supervision!
Many of our toys are HAND MADE and may vary slightly in construction from the pictures shown. If you are unsure if a toy will work for you please e-mail us and ask us about the specifics of our toys.


Choose a link from the left navigation bar to explore our toy lines!



Do you have a hint or tip that you'd like to share with other parrot lovers? If so, please email it to us and if we use it ... we'll give you a free gift in with your next order!

Choose a link from the left navigation bar to explore our toy lines!