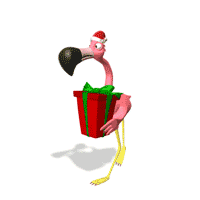 We want to take this opportunity to give "THANKS" to you
and wish you a very happy, healthy and safe holiday season
filled with lots of love and laughter!
With the holidays upon us, we have a very special offer for you, our loyal customers. The entire month of December, you will receive 10% off your entire order (excluding gift certificates) ... PLUS a 10% gift certificate good the month of January!
Here's how it works ... if you order $100, you will get a $10.00 instant discount (which totals $90 before taxes and shipping) PLUS an e-gift certificate for 10% (in this sample, the gift certificate is $9.00).
No coupon required. Discount will be shown in your cart.
Offer valid 12/1/2016 through 12/31/2016.
Gift certificates valid 1/1/2017 through 1/31/2017.
Normal shipping costs apply.
---
Sydney the Busy Beaks Cock'too
has a very dusty beak!
And if you ever saw him,
you would know he likes to speak.

All of the other birdies,
love to watch him pull his sleigh
They always let dear Sydney
have his special toys to play.

HAPPY HOLIDAYS FROM OUR
BUSY BEAKS TO YOURS!!
---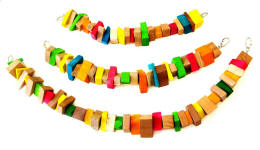 Busy Beaks bird toys are veterinarian approved and loved by parrots of every size from literally all over the world. We're proud to offer Aronico, Art by Ludo, Bell Plastics acrylic bird toys, Birds of Play, Bizzy Birdy Playthings, Busy Beaks Toys, DVDs and books by Barb Heidenreich, Rosemary Low, Liz Wilson, and Cage 'n Queen, Caitec, Feathered Phonics, Fun Max Bird Toys (Zoo Max), Giggle Bird Toys, Happy Beaks Toys, JUST Fruit and Veggies, Life's Great Products, Poop Off (be sure to check out Poop Off Wipes), Molly's Bird Toys, Petscape Bagels & Bogglers, Paradise Bird Toys, Planet Pleasures, Polly Wanna Pinatas, Prevue Hendryx Bird Toys, Scooter Z's, Super Bird Creations, and Wesco Bird Kabobs. Whew ... and so much more ...
Busy Beaks are Happy Beaks™!
---
Limited Edition watches and bottle holders so be sure to check out our GIFTS and ACCESSORIES!
For a special occasion or for great gift ideas just out the whimsical bottle neck climbers, bottle holders like the Parrot, the whimsical corkscrews and coasters too! Unusual items for those FID (feathered or furry kids) lovers in your life on our gift & accessories page!
---
Be sure to check out the Colored shredders NOW in two sizes plus see the new mini pinata and mini bird candy ... more choices for those feathered companions in your house! We have lots of foot toys, toys for feather pickers, natural and shredable toys including the very popular Planet Pleasures Piñatas & Shredders and the loved by all FIDs Bird Kabobs.
---