Chauncey
A VERY SILLY SLENDER BILLED COCKATOO (aka long bill corella)!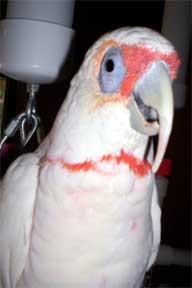 Recently I started a business which takes me into people's homes and people's lives via their parrots. I was surprised to get a call from what one might consider the perfect home for a cockatoo. The bird's owner had a severe hearing impairment. Cockatoo gets loud, turn off the hearing aid, right? However, the rest of the family had issues with the decibel level of Chauncey, a male Slender Billed Cockatoo. They tended to isolate Chauncey when he went into this mode, which made him even louder! I attempted to explain that they need to re-pattern their behavior in order to re-pattern their cockatoo's. After a concerted effort to educate and support this family, they asked me to take him. He wasn't working out in their home. I think they made the right decision. Chauncey is not meant to be quiet, and he's not meant to be alone! He is a precocious hyperactive child.
However, Chauncey is amazing! He is alert, creative, mischievous, and extremely intelligent! The first thing I learned is that he is very mechanically inclined. He can escape easily from his cage unless it is battened down. His beak is a tool that can manipulate any latch, lock, or puzzle.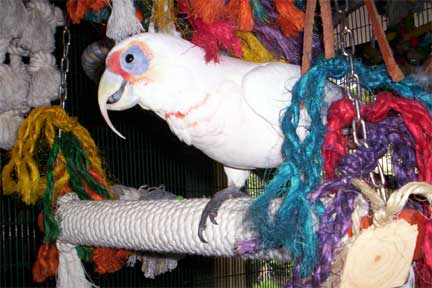 I am very interested in finding each parrot's favorite pastime and Chauncey's is foraging with this unique and functional beak! He loves to dig out the meat from a nut. I often find seemingly whole almonds or walnuts on the floor of his cage and yet, upon further inspection, they are completely empty! All that's left is a shell with a tiny hole in it. Therefore, my job is to provide him with tons of foraging toys in his cage. He currently has eight of them! Keeping them filled with suitable items is a challenge! After all, you can't eat nuts all day!
Another fun and charming characteristic of this guy is his amazing ability to talk. He can pick up phrases very easily and does! He is very communicative. He will opt to talk rather than scream if given the chance. It seems giving this parrot more attention, not less, is the key to quieting him. He just wants and needs to be part of the flock.
Whenever he starts to rev up… I just say something like, "Wanna Dance?" and he goes into a beebop maneuver bouncing up and down and singing, "Doop Bee Doop Bee Doop Dee Do." I attribute his behavior to being hyper active. He has loads of energy that cannot be suppressed. But, because of this, he is easy to distract!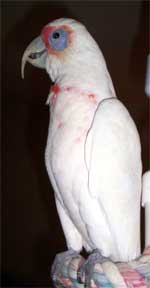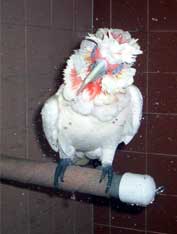 One way to dissipate this energy is to let him swing upside down from a bungee rope. He goes to the bottom and hangs and flaps and, yes, screams his airsacs out! He NEEDS this. I recently was at another cockatoo home where they had a long rope bolted to the ceiling and their Umbrella cockatoo grabbed the end of this rope and literally flew in circles, screaming. You have to love cockatoos to rejoice in this type of activity! I plan to hang a "flight rope" very soon!
A drenching shower is another great way to dilute this exuberance. After some exhilarating exercise, a long and wet shower will make nap/preening time very quiet. Always welcome when one works from home!
Chauncey shows us the importance of researching the various species of parrot prior to adopting one. His previous family does quite well with their two macaws. Macaws tend to be calmer and although they can blast out with some pretty jarring airhorn calls, they aren't usually incessant about it. This family brought Chauncey into their home only to find out they could not deal with his high energy and high noise level. Lesson learned.
Gayle
(Editor's note: Gayle Reece, formerly Sally Blanchard's assistant and associate editor of Companion Parrot Quarterly, has started her own business called www.parrotnanny.com If you're in the San Francisco Bay area, be sure to check into Gayle's services , or send her an email! )