Foraging Kabob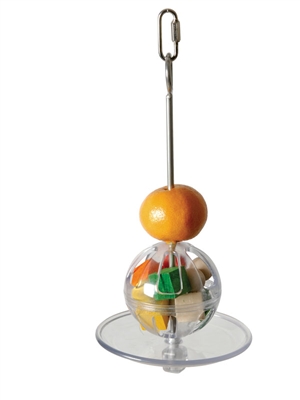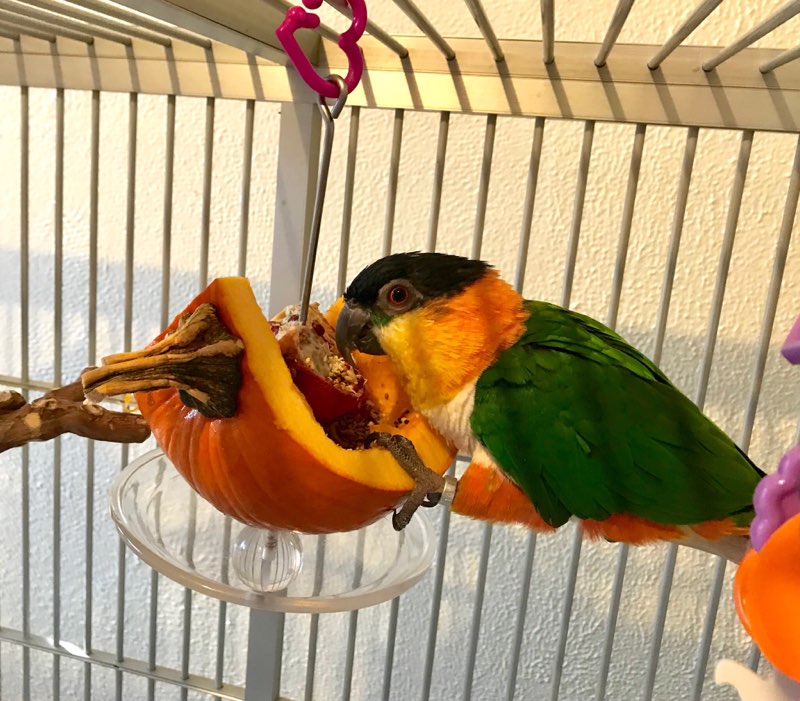 Polycarbonate Plastic and Stainless Steel foraging toy for your feathered companions! You can use the Stainless Steel rod as a skewer (as shown in photos) for adding wooden parts, bagels, carrots or other goodies to add to the fun! Quick link on top for easy hanging! This toy was designed for the most beaks in your house ... based on a very sturdy stainless steel skewer and a 3 inch foraging ball. There is a stury 5.5" plate on the bottom to help capture some of the goodies (mess) that your parrot leaves behind.

Note that Ravi (Caique) is being encouraged to forage by giving him a partial pumpkin (as a bowl) and a messy pomegranate is inside (great way to help contain the mess). Thanks to Holly T. from Dallas for sharing her photo and giving us a great tip. All the parts are interchangeable. She has the bowl from the Buffet Ball, the Skewer from the Foraging Ball Kabob or the Foraging Kabob. Great tips, Holly!
Also, check out the Capsule, Wheel, Generation II Wheels, Carousel, Push & Pull, Paddle Wheel, and See Saw foragers!
For more foraging choices!
The Foraging Kabob arrives empty and ready for you to fill with your parrots favorite goodies. Offer only dry, healthy treat foods in these feeders, empty them often to avoid spoilage! You can wash all acrylics in one part bleach, 3-4 parts water, rinse thoroughly and air dry!
Item #: 63191
Size: Large (19" x 5" Diameter)
Price: $25.00