Creative Foraging Systems
See Saw Forager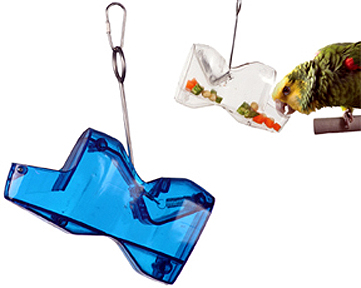 A great, refillable, polycarbonate plastic foraging toy for your mid to larger sized feathered companions! Fill the See Saw Forager with treats and hang in cage. Parrots must tip the See Saw downward to release the goodies. The See Saw will automatically return to original position so your parrot can repeat the process time and time again! Great toy for most mid sized parrots like Amazons, Greys, Small Cockatoos, Small Macaws and like sized birds.
Use your imagination with this toy and put a smile on your parrot's beak!
Also, check out the Capsule, Foraging Ball with Bell, Food Tumbler, Sphere, Wheel, Carousel, Generation II Wheel, Paddle Wheel House of Treats, foragers!
For more foraging choices!
The See Saw Forager arrives empty and ready for you to fill with your parrots favorite goodies. Offer only dry, healthy treat foods in these feeders, empty them often to avoid spoilage! You can wash all acrylics in one part bleach, 3-4 parts water, rinse thoroughly and air dry!
Item #: 63160
Size: One Size
9" x 7-1/2"
Price: $18.75