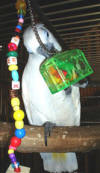 The story of how Riley and I became a family actually started when I was a child. A gal I had grown up with had bought Riley at a pet store about 10 years ago (1995). She and her sister passed the bird back and forth because neither of them had the time for such a time consuming pet (at least this is what I was told). Riley screamed and when their husbands could no longer stand it, she'd get moved again. On Thanksgiving (2002), I had stopped at one of their houses to say hello and heard Riley screaming from her cage. "Who is that screaming?" She said that's Riley, the Umbrella Cockatoo. I had briefly seen her before but the tone of this scream told me something was wrong. So I asked if I see her. So this gal took me to an isolated porch in the dead of winter, which was definitely not too comfy and and opened up this medium size cage (much too small for an Umbrella Cockatoo) and Riley scrambled to the back of it as this gal took a spray bottle and sprayed it directly toward Riley (a procedure that had obviously taken place many times before). Quite frankly, I didn't know anything about birds but am an animal lover so was horrified and asked her to please stop! (It was very obvious to even my unfamiliar eye that Riley didn't like having water sprayed at her, in winter no less ... but then again, who would?). I looked at this obviously unhappy bird, then at Riley's pathetic cage which had bird poop piled at least 3 inches high and asked if I could please take Riley home to care for her.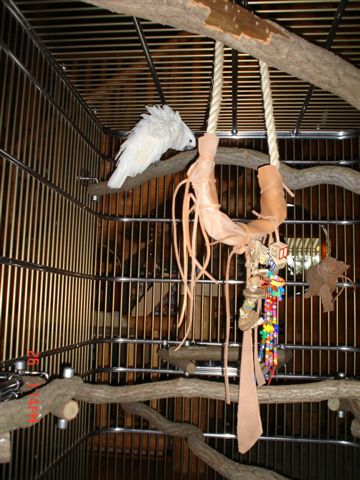 I'm a dog lover and never even thought I would have or want a bird, I knew nothing about them but it was more than I could bare to see her sad, wet face and cowering at the back of the cage.
It's been more than 2-1/2 years and during that time, this incredible U2, Riley, has stolen my heart. I have since paid the friend the money she had paid for Riley and I know she is truly mine (and I'm hers). When I'm not home, Riley lives in a huge 6' X 8' X 5' cage but when I am home, she is out of her cage and spending lots of time with me and toys, toys, toys! She is a very busy beak! She eats fresh veggies and fruits everyday and loves to have her oatmeal with cinnamon and warm soy milk with momma in the morning. I love taking care of her and love to buy her lots of toys.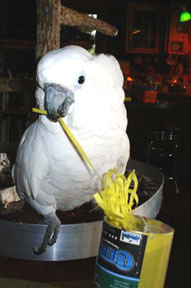 Riley is crazy over anything shredable like the munch balls and bagels, she even uses a critter cooler (pictured left) as a foot toy and loves most foot toys (she's very handy with her feet)! Other favorites are beads, kabobs, shredders, fun balls and those porcupine toys!
Riley says "that gooood" whenever I am eating something that she wants and greets me with a "hellooooo" whenever I walk in the house. She thought she was a chicken for awhile after coming to live with me, started laying eggs almost immediately (something she'd never done in her "previous" life!). So I've made sure that in addition to a well rounded, healthy diet with some calcium and mineral supplements, she also gets cold pressed flax oil in her acidophilus twice a week, which she drinks right up. I had heard that the flax oil helps the muscles stay healthy to release the eggs and helps prevent a collapsed cloaca so that's why I started adding that to her diet. Honestly, I can't help but think all those eggs were a gift to me for bringing her "home."
Who'd ever think that this unwanted, unloved, very loud creature could bring such joy to my life? She puts a smile on my face and warms my heart when I see her! It was hard at first but I love Riley so much and know that we will grow old together.