Paper Party
(Now in 3 sizes!)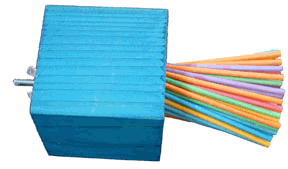 In three sizes, this great toy mounts onto the cage like a perch. Use your imagination when placing this in the cage, upside down from the top of the cage, on the outside or inside, anywhere you put it, your FID will love shredding the colorful lollipop sticks! For even more sticks to peel, check out whiskers! Don't forget the Perch Party for more stick peeling fun!!
For even more stick toys, click here ...

Be sure to use your imagination with placement ... they CAN be hung from the top of your cage as well as conventionally hanging inside or outside of the cage for added challenge and beak pleasing fun!
Item #: 78632

Size: Mini (4.5" x 2")

Price: $7.75

Item #: 78633

Size: Med (6.5" x 3")

Price: $9.00

Item #: 78538

Size: XL (4" x 4")

Price: $17.50