Perch Party
Discontinued by Manufacturer
This perch is a special favorite for our CAGS and Eclectus, Eddie Ekkie (he's on the large size) uses it for standing, chewing and sometimes even as a perch! All of our birds destroy them in different fashions! Tanya shreds all those sticks down to the wooden base and then destroys the base while Gabby chews on the sticks and works at getting them out of the base, like it's a "mission" while sitting on the 1-1/2" diameter dowel (which mounts to the side of the cage with washers and a wing nut, included). You'll want to keep a spare on hand when you see how much fun your FID has with this perch! AND if you're looking for the same concept, be sure to check out the brand new Spin-a-roo Perch, or perhaps the Stick Twirler Perch. If your FID loves sticks, be sure to check out Paper Party, Whiskers and Hanging Stick Ball for even more peeling fun!
For even more stick toys, click here ...
When they're gone, they're gone!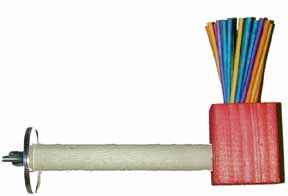 Item #: 78502
Size: Small (6" x 3-1/2")
Price: $7.50