Dumbell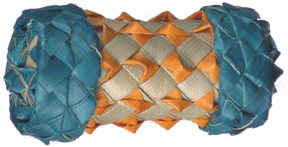 A foot toy from Planet Pleasures that is tightly woven and full of texture and beak teasing grooves & bumps. We've tried it with our cats and they had a great time with it too!! Good for all sized birds, even the biggest beaks in your house. Love this addition to the Planet Pleasures natural line of shredable, affordable, destroyable toys! Fun toy for cats too!
Please remember that all Planet Pleasures toys are handmade so it's normal for the sizes vary a bit.
Item #: 77218

Size: One Size (2.5" L x 1.25" Dia)

Price: $3.15

As with all toys that have rope, sisal, fabric and curly laces, PLEASE be sure to
check the toy daily for frayed edges and keep it (and your parrot's nails) well trimmed.