Foraging Ball
(2 sizes)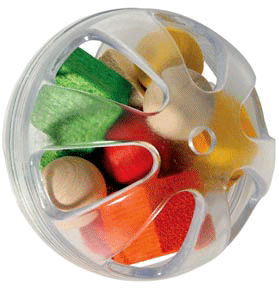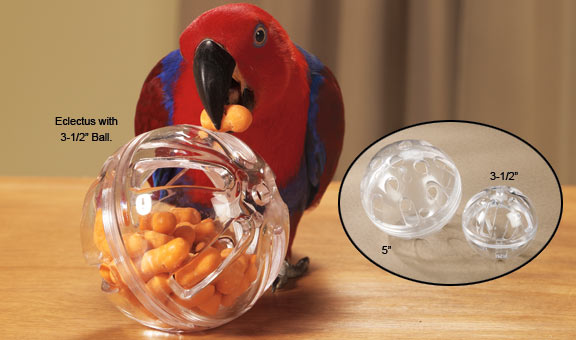 Heavy duty polycarbonate plastic foraging toy for your mid to larger sized feathered companions! The Foraging Ball arrives empty (photo above left) but it's very easy to fill and just twist to close. Twist the halves counter clockwise, then add your choice of goodies (example above right is wooden pieces and more option on the refills page), or other foods which might include pieces of fruit, whole or shelled nuts, JUST veggies or JUST fruit, fresh veggies, Nutriberries, popped corn or large pellets. Use your imagination with this toy and put a smile on your parrot's beak! The possibilities are endless with this great foot toy ... and if your parrot prefers things that hang, use the holes to string it to your cage or put it on a skewer! The Foraging Ball may be hand washed and is also dishwasher safe.
For more foraging choices please check out the Capsule, Wheel, Generation II Wheels, Carousel, Push & Pull, Paddle Wheel, and See Saw foragers!
For more foraging choices!
The Foraging Ball arrives empty and ready for you to fill with your parrots favorite goodies. Offer only dry, healthy treat foods in feeders, empty them often to avoid spoilage! You can wash all acrylics in one part bleach, 3-4 parts water, rinse thoroughly and air dry!
Item #: 63134

Size: 3.5" Diameter (about the size of a baseball)
NOTE: Foraging Ball arrives EMPTY!

Price: $10.00

Item #: 63195

Size: 5" Diameter (about the size of a baseball)
NOTE: Foraging Ball arrives EMPTY!

Price: $12.50