Mardi Gras
(3 sizes - Limited Availability)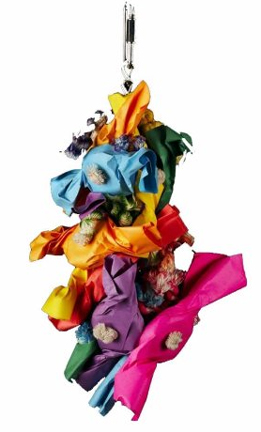 These are adorable! The Mardi Gras starts with a nickel plated quick link on top and the center is nickel plated welded chain with 100& colorful cotton knotted through the links. Some of the cotton legs have colorfully wrapped wooden beads attached. Colorful, fun and full of motion and texture! Sure to keep your Busy Beaks occupied! These are designed for the small to mid-sized beaks in your life! The Medium has some plastic rings spaced through the toy for added challenges!
Item #: 53100S

Size: Small (6" x 3")

Price: $7.75

Item #: 53100M

Size: Medium (7" x 4")

Price: $9.00

Item #: 53100L

Size: Large (12" x 6")

Price: $10.50
Note: Please check toys daily to trim lose threads and keep your birds nails trimmed!
As with all toys, please monitor your pets and make sure they don't actually consume non-edibles!