Starburst
(now in 2 sizes)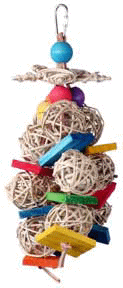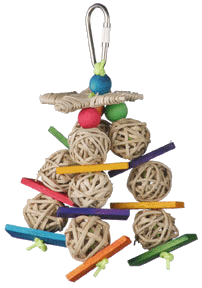 Munch balls are a favorite in our house and Super Bird Creations has come up with another design to incorporate these great, shredable parrot favorites! There are 4 legs of munch balls strung on vegetable tanned leather laces, separated by colorful slats of chewable wood with wooden balls on top and naturally, a woven munchable star on top with a quick link for easy hanging! The perfect choice for those mid-sized munch ball shredding beaks in your house! NOW AVAILABLE in a smaller version which is sure to delight parrotlets to cockatiels with it's nine mini vine munch balls and soft balsa slices.
REMINDER: THE MUNCH BALLS ARE ALL HANDMADE SO THE SIZES MAY VARY WITH EVERY SHIPMENT!

For even more fun ... turn this into a foraging toy by filling with YOUR parrots favorite treats (JUST veggies, JUST fruit, pine nuts, pistachios, uncooked pasta, dried peppers, coconut fiber, shredded paper, peanuts, leftover pre-loved pieces of toys, etc.).
Item #: 78814

Size: One Size (10" x 4")

Price: $18.25

Item #: 78839 (mini)

Size: One Size (5.5" x 2")

Price: $8.75