Durian
(4 sizes)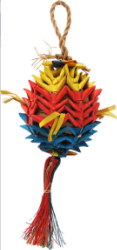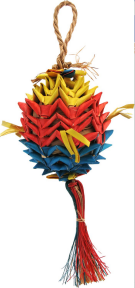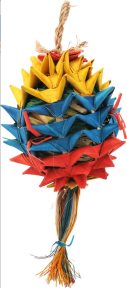 Our parrots LOVE the Planet Pleasures Durian. These colorful, spikey Durians have colorful, shredable outsides and lots of fun, natural stuffings inside. It's designed with little spaces that are perfect for storing treats, which encourages your feathered family to forage. Plus, it's crafted with natural materials, so you can feel good about giving it to your bird for some playtime fun. With five sizes from which to choose, there is the perfect size available for your Busy Beaks!
Please remember that all Planet Pleasures toys are handmade, so it's normal for the sizes vary a bit.
Item #: 77293XS

Size: XSmall (7' x 2" x 2")

Price: $4.25

Item #: 77293S

Size: Small (10" x 3.5" x 3.5")

Price: $7.25

Item #: 77293M

Size: Medium (11" x 4.5" x 4.5")

Price: $12.75

Item #: 77293L

Size: Large (12" x 5" x 5")

Price: $15.75

As with all toys that have rope, sisal, fabric and curly laces, PLEASE be sure to
check the toy daily for frayed edges and keep it (and your parrot's nails) well trimmed.