Gypsy Queen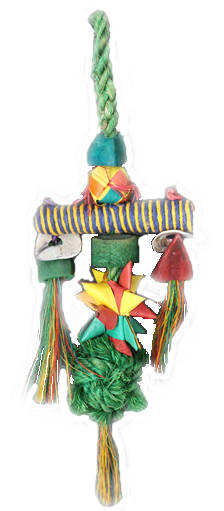 The Gypsy Queen is another great option for parrots who tend to overpreen, feather worriers or pluckers. Lots of texture and movement in this toy. Coconut chunks, colorful corn cobs, shells, woven palm balls and stars provide foraging and enrichment! Oyster shells are tied between natural pods which are then adorned with even more palm shreds plus a good sized monkey fist on the bottom for durability.
Please remember that all Planet Pleasures toys are handmade so it's normal for the sizes vary a bit.
Item #: 77263

Size: One Size (11" L x 3.25" W)

Price: $10.00

Item #: 77264

Size: One Size (14" L x 5" W)

Price: $16.00

As with all toys that have rope, sisal, fabric and curly laces, PLEASE be sure to
check the toy daily for frayed edges and keep it (and your parrot's nails) well trimmed.