Four Big Drawers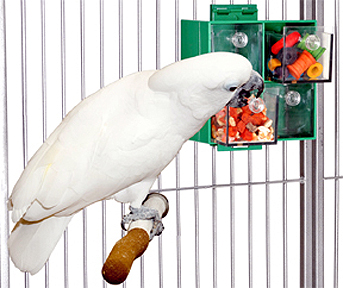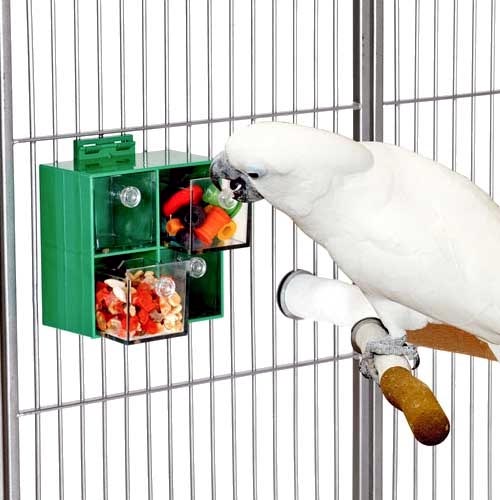 This is a super toy designed to encourage foraging. Great for recycling pre-loved toy parts, whole nuts or healthy treats. Use your imagination with the Four Big Drawers and keep your parrot challenged for hours! Mount the Four Big Drawers from the outside of your bird's cage to keep him entertained. Virtually indestructible polycarbonate drawers are a great place to stash your bird's favorite treats, foods, or foot toys for your bird to search out and enjoy. Simply slide out the drawer, fill, slide back in, and watch your bird forage for his special treasures. You bird will learn to slide each drawer open by the handle, which will help alleviate cage boredom and the negative behaviors associated with it. Each drawer measures 2-3/4" square and features a bottom screw-in "lock" that prevents full removal by your bird, but lets you remove the drawer for filling and cleaning. Just fill the clear drawers with your bird's favorite treat, toy, or food and watch the fun!!
Drawers remove completely for easy filling and cleaning. Perfect for For Amazons, Cockatoos, Macaws and like-sized birds.
Bird foraging toys helps alleviate boredom and negative behaviors. Also, check out the Carousel, Sphere and Wheel foragers for more foraging choices!
Note: The umbrella cockatoo is sitting on the Sit and Groom perch!
The Four Big Drawers arrives empty and ready for you to fill with your parrots favorite goodies. Offer only dry, healthy treat foods in these feeders, empty them often to avoid spoilage! You can wash all acrylics in one part bleach, 3-4 parts water, rinse thoroughly and air dry!
Item #: 63080
Size: 5-7/8" x 5-7/8" x 5-7/8"
Screw-on mounting hardware included.
Price: $37.25