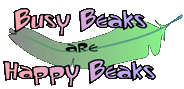 Leather Spring

The Leather Spring has a vegetable tanned leather (processed in the USA) Leather Coil center that is actually grooved leather to add to your parrot's tongue teasing fun! We like to layer things for our birds so we're using a ParroTrap (finger trap) as an example of what you can put into the Leather Spring. But why stop with a parrotrap? You can stuff the ParroTrap before putting into the coil (rolled corrugated wrap, brightly colored bond or construction paper, shredded crinkle paper, a hidden treat wrapped in a cupcake paper, ParroPop Sticks, natural chews, straws, etc.) ... think outside the box to encourage foraging!! You can keep it simple by adding millet or perhaps a carrot! If you're using food, be sure to change regularly and don't use wet food since you don't want to encourage mold. There are nickel plate "O" rings on top and bottom, with a pear shaped nickel plated quick link on top for easy hanging. We've added a fun chunky bear pendant/charm on the bottom for added interest. Good for small to larger beaks in your house.
If you like Leather Spring ... check out the Pigtails!
Item #: 32123
Size: One Size (8" x .75")
Price: $6.50
Note: Each toy is individually handmade in the USA, colors, styles, beads and charms may vary from photograph.
As with all toys, please monitor your pets and make sure they don't actually consume non-edibles!