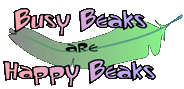 Mickey Forage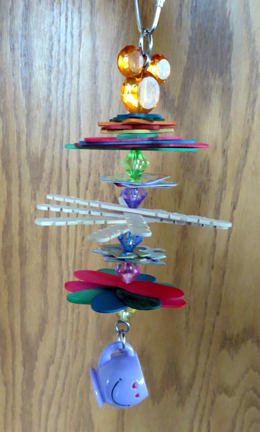 Mickey Forage is built on stainless steel wire, topped with a quick link for easy hanging. The top is a fun, large (1.5"), chunky acrylic "mouse head" followed by colorful wooden stars (makes it look like a clown collar, very cute). Then more chewable ice cream spoons, separated by fancy faceted bicone beads, mini playing cards, the groovy sticks, puzzle pieces, more ice cream spoons and ending with a fun, foraging cup. Use your imagination to encourage foraging like stuff with shredded paper and hide some treats in a twisted cup cake paper inside to encourage forage. There are lots of textures, motion and chewing fun with Mickey Forage! A great toy for the smaller to mid sized beaks in your house!
Item #: 32107
Size: One Size (10.5" x 4.5")
Price: $8.75
Note: Each toy is individually handmade in the USA, colors, styles, beads and charms may vary from photograph.
As with all toys, please monitor your pets and make sure they don't actually consume non-edibles!