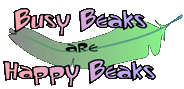 Fluff Forager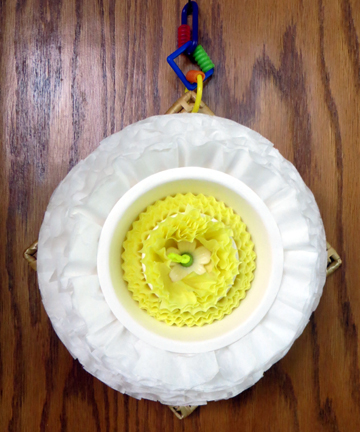 We had made these specifically for American Federation of Aviculture convention that we attended. They were such a hit, that we've decided to add them to our website. The base of these Fluff Foragers is a woven hot pad (either round, pictured above left or square, photo above right). The backing is a bunch of coffee filters (great to hide goodies or stuff additional shredded crinkle paper to add to the fun). The centers have different fillers because variety is the spice of (parrot's) lives, right? There will be layers of kraft snack trays or snack cups! They're filled with goodies like cupcake filters, puzzle pieces, raffle tickets, playing cards, etc. You can really have fun with these ... and they're sure to put a smile on your parrot's beak. There's a simple parrolink on top that is covered ... which you can use for easy hanging. These are perfect for most mid sized but not the mega destructo beaks!
Item #: 32095R

Size: One Size (9" Diameter x 5" Depth)
round woven hot pad approx 7" diameter

Price: $10.75

Item #: 32095S

Size: One Size (9" Diameter x 5" Depth)
square woven hot pad approx 6.5" square

Price: $10.75
Note: Each toy is individually handmade in the USA, colors, styles, beads and charms may vary from photograph.
As with all toys, please monitor your pets and make sure they don't actually consume non-edibles!
If your FID tends to be mechanical, please remove the clapper before giving to your avian family!