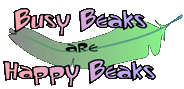 Firecracker Teddy
Our parrots are having a great time with Firecracker Teddy! There are six doubled over ParroTraps (fingertraps), with bitty bagels towards the ring, that are stuffed full with shredded paper so look like an exploded firecracker! There are fun, chewable squiggles in between the firecrackers for added tongue teasing fun! The ring is a 4" plastic ring with an "O" ring to hold the adorable, 1.5" Teddy in the center. The nickel plated chain has a fun, rubber covering for added durability and more chewing layers. Topped with a pear shaped quick link on top for easy hanging plus a couple fun ruffled beads. Lots of motion and texture in this toy ... and you can easily hide some goodies inside the parrotraps to encourage foraging! Perfect for Caiques, Amazons, TAGs, CAGs, Goffin's or smaller 'toos and smaller macaws or like sized parrots.

Note: When they tear up the pieces, just refill the ring! ParroTraps, Bitty Bagels and Shredded paper is highlighted above to easily find the pages.
Item #: 32091
Size: 1 Size (10" x 8")
Price: $15.75
Note: Each toy is individually handmade in the USA, colors, styles, beads and charms may vary from photograph.
As with all toys, please monitor your pets and make sure they don't actually consume non-edibles!