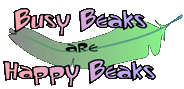 Bagel Forage Tower

There is a whole lot of fun happening in this toy! The Bagel Forage Tower was built on neon laces to hide goodies inside the chunky bagelettes! All the parts are movable so you can hide goodies and put into your parrot's cage to encourage natural foraging activities. There are a total of five plastic wheels, separated by heavy duty bead in beads and capped with blossom frames to hide the knots! There is a heavy duty pear shaped quick link for easy hanging. This is a fun, keep your parrot's Busy Beaks busier toy ... geared towards the mid to larger sized beaks in your house!
If your parrot loves this toy, be sure to check out the Tower Forage for additional challenges!
Item #: 32047
Size: One Size (approx 16" Long x 1.75" Wide)
Price: $14.75
Note: Each toy is individually handmade in the USA, colors, styles, beads and charms may vary from photograph.
As with all toys, please monitor your pets and make sure they don't actually consume non-edibles!