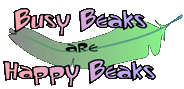 My Right Foot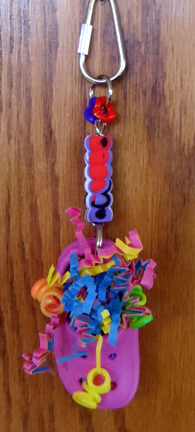 My Right Foot is a fun foraging type toy. You can hide a treat inside the shredded crinkle paper and stay back to watch the fun. There's a nickel plated pear shaped quick link on top for easy hanging, an "O" ring, with a couple fun ruffled beads on it, which connect the nickel plated welded chain, which is covered with a fun, chewable cover, then another "O" ring to connect to the colorful croc. There are a couple fun squiggles for added beak teasing fun. This is a fun toy for the smaller to mid sized beaks in your house.
Item #: 32046
Size: One Size (approx 6.5" Long x 1.75" Wide)
Price: $6.75
Note: Each toy is individually handmade in the USA, colors, styles, beads and charms may vary from photograph.
As with all toys, please monitor your pets and make sure they don't actually consume non-edibles!