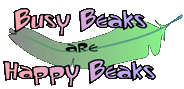 Recycle It!

Recycle It was sort of designed by our cockatoos who love to recycle paper ... any kind of paper. We roll up junk mail (make sure there's nothing harmful inside), catalogs (remove staples and check for inserts that could be harmful like "scratch" here fragrance samples). This is a simple toy with a #4 plastic chain center, with added doily disks and pacifiers for added interest with a large (1.25") solid, nickel plated "O" ring on the bottom for rolling up your recyclables. We have included a roll of corrugated wrap to get you started. We've put a parrolink on top to keep the cost down ... which can be easily replaced with a stainless steel or nickel plated quick link. Sized for the mid to larger sized beaks in your house like cockatoos, amazons, greys, etc.
Item #: 32013
Size: 1 Size (11" L x 2.5" W)
Price: $5.25
Each toy is individually handmade in the USA, colors, styles, beads and charms may vary from photograph.
As with all toys, please monitor your pets and make sure they don't actually consume non-edibles!