Stainless Steel Swing w/Bells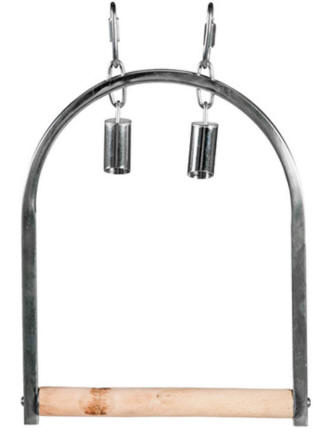 Years ago, I used to give a talk on "make the most of your real estate". What that meant is ... make your feathered families housing environment the very best you can especially when you are gone for several hours or all day long. So perches that are also toys is one way of doing that without over crowding a cage. This is another good example! This is a swing (stabilized since it's connected in two locations) so it works well as a swing, perch, and the stainless steel bells are an added interest. The perch portion of the swing is replaceable so this is truly one of those toys/swings that should last you a lifetime with just minimal care. Inside measurements on the swing are 8" tall and 7.25" wide.

As with all toys that have rope, sisal, fabric and curly laces, PLEASE be sure to
check the toy daily for frayed edges and keep it (and your parrot's nails) well trimmed.

Item #: 63035
Size: Medium (11" L x 8" W)
Price: $36.00