Critter Cave Chews are fruit flavored cardboard play & chew tubes.
Sleeping, chewing, and playing excitement for all kinds of hookbills.
Three sizes available:

Junior measures 6" x 2.5" which is perfect for parakeets, finches, parrotlets, lovebirds, and other small birds. Don't forget these are perfect for mice, gerbils, hamsters, and other small furry animals as well!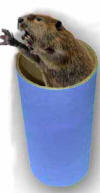 Original measures 9" x 4" and enjoyed by conures, cockatiels, lories, senegals, and other medium/small parrots. Fun for the mid sized furry critters as well!

XXL measures 10" x 6" which is great for amazons, greys, small macaws and cockatoos. Great fun for guinea pigs, chinchillas, prairie dogs, rabbits, and other furry animals too.

* Flavored with assorted fruit tastes.
* Extra thick cardboard design for weeks of chewing and shredding enjoyment.
* Provides a necessary hiding place for your bird.
Critter Cave Jr.

Critter Cave

Critter Cave XXL

Item #: 82022

Size: Junior (2.5" x 6")

Price: $2.00

Item #: 82023

Size: Regular (4" x 9")

Price: $3.25

Item #: 82024

Size: Super (6" x 10")

Price: $5.75