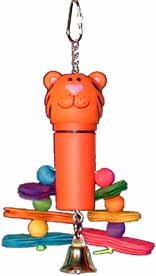 Spread the ice cream spoons out to give more interest to this toy ... our birds love to snip off the ice cream spoons and yours will too! Great for those smaller to mid-size parrots in your house! (Body styles will vary, lions, tigers, etc.)
NOTE: This toy is discontinued by the manufacturer so if it's one of your parrot's favorites, please stock up. When they're gone ... they're gone!
Item #: 78786
Size: One Size
Price: $9.75
Now: $7.31
Note: As with all bells, if your FID tends to be mechanical, please remove the clapper before giving to your avian family!