Stars & Balls
(2 sizes)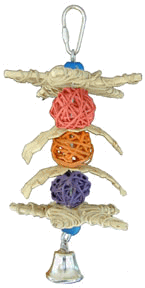 Three colorful munch balls, separated by woven palm leaf with a woven star on the top and bottom. There's a nickel plated shaped quick link on top making it easy to hang and a bell on the bottom for ring-a-ding-a beaking fun. With two sizes available, there's the perfect size to choose from for parrotlets to greys to enjoy!
NOTE: This toy is discontinued by the manufacturer so if it's one of your parrot's favorites, please stock up. When they're gone ... they're gone!
Item #:78545

Size: Mini (7-1/2" L x 2-1/2" W)

Price: $4.75

Item #:78554

Size: Med (9" L x 4" W)

Price: $8.00
Note: As with all bells, if your FID tends to be mechanical, please remove the clapper before giving to your avian family!