Cluster Square Balls Mini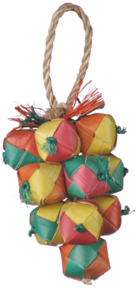 What a fun new toy from Planet Pleasure. It reminds me of a small cluster of grapes! There are many small square balls just waiting for your feathered companion to enjoy! A smaller package but BIG in beak pleasing fun! The Cluster Square Balls Mini is perfect for the smaller feathered companions in your house like parrotlets, parakeets, small conures, cockatiels or use as a foot toy for the larger FIDs! A great addition to the Planet Pleasures natural line of shredable, affordable, destroyable toys!
Please remember that all Planet Pleasures toys are handmade so it's normal for the sizes vary a bit.
Item #: 77201

Size: Small (4.5" L x 2" Dia)

Price: $3.25

As with all toys that have rope, sisal, fabric and curly laces, PLEASE be sure to
check the toy daily for frayed edges and keep it (and your parrot's nails) well trimmed.