Hex Tower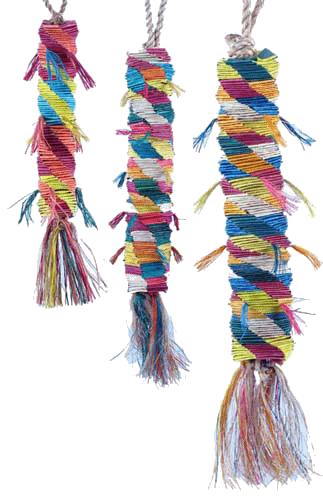 Made from the same palm leaf as Shredders, these colorful, shredable toys remind me of a pinwheel the way they are tightly stacked. Great toy for those shredding loving beaks in your house with yet another twist for beak pleasing fun. There are three sizes available so all birds from parrotlets to macaws will enjoy this new creation from Planet Pleasures!
Note: If your parrot loves this toy, be sure to check out the Square Tower!
Please remember that all Planet Pleasures toys are handmade so it's normal for the sizes vary a bit.
Item #:77093

Size: Small (11" L x 1" Dia)

Price: $6.75
Now: $5.74

(Discontinued by Mfr)
Item #:77094

Size: Med (14" L x 1-1/2" Dia)

Price: SOLD OUT

(Discontinued by Mfr)
Item #:77095

Size: Large (18" L x 2" Dia)

Price: SOLD OUT