Lotus Flower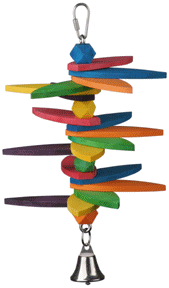 There are eighteen (18) colorful wooden leaves (petals) with angle cut wooden beads separating the leaves, all layered on a reusable, refillable 3.5mm stainless steel skewer. A 32mm stainless steel bell is hung from the bottom with a 3/4" diameter stainless steel "O" ring. The Lotus Flower is topped off with a 2.5mm stainless steel quick link for easy hanging. The stainless steel skewer can be used time and time again! Great for your mid size parrots!
Note: As with all bells, if your FID tends to be mechanical, please remove the clapper before giving to your avian family!
Item #: 71028
Size: 7" x 11"
Price: $15.75

Make the most of your (cage) real estate! The stainless steel skewer is reusable, refillable and dishwasher safe! Use your imagination to reduce, reuse, recycle your toys. It'll extend your bird toy budget and put a smile on your parrot's beak!