Shrubby
(3 sizes)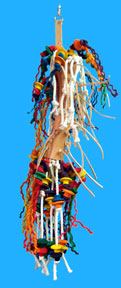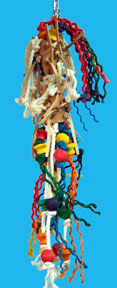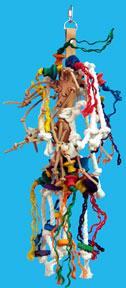 Large leather piece in the center, lots of wooden parts hung from 100% cotton rope for added texture; center tied by a stretching machine so it's almost impossible to untie. Lots of leather strips, lots of sisal, lots of rope, lots of leathers ... lots of everything! This is also a great toy for those over preening or feather picking parrots in the house!

As with all toys that have rope, sisal, fabric and curly laces, PLEASE be sure to
check the toy daily for frayed edges and keep it (and your parrot's nails) well trimmed.

Item #: 67122

Size: Lg (40" x 15")

Price: $76.00

Item #: 67123

Size: Med (26" x 8")

Price: $39.50

Item #: 67124

Size: Small (19" x 6")

Price: $31.50