Spin Fun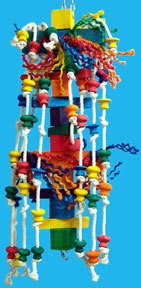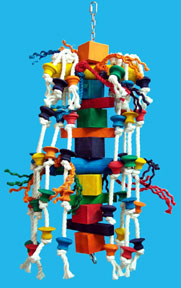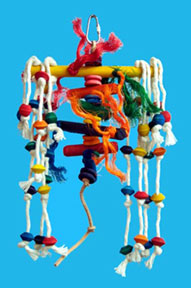 Your parrot will love this colorful toy that is full of wooden blocks, sisal and cotton rope. Lots of motion with the movable blocks, logs and wooden pieces. Don't let the photos fool you (be sure to check the measurements), the XL is HUGE and full of lots and lots of chewing fun. The larger sizes are strung on welded chain and the small and extra small are on cotton or leather. This toy is excellent for parrots that are FEATHER PICKERS, and with FIVE sizes/lengths, no BIRDIE is left out!

As with all toys that have rope, sisal, fabric and curly laces, PLEASE be sure to
check the toy daily for frayed edges and keep it (and your parrot's nails) well trimmed.

Item #: 67093

Size: XL (48" x 7")

SOLD OUT

Item #: 67094

Size: L (35" x 6")

SOLD OUT

Item #: 67095

Size: Med (26" x 6")

SOLD OUT

Item #: 67096

Size: S (21" x 6")

SOLD OUT

Item #: 67097

Size: XS (10" x 4")

Price: $22.00