Seek n Find Forage Box
(2 sizes)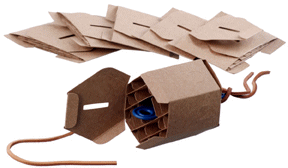 A natural solution for undesirable behaviors such as feather picking and repetitive activities. Compartmentalized glue-free box creates stimulating foraging experience. U.S. made food grade paper box (comes in an easy to assemble package) with a plastic connector and vegetable tanned leather strips for easy hanging. Go crazy with this toy, hide whole nuts, wooden parts, corks, wooden ice cream spoons, ParroStix or other favorite parrots!
There are a total of 6 boxes in the small size and 5 boxes in the larger size. Lots of foraging fun at an affordable price!
For more foraging options ... click here!
Item #: 63131

Size: Small (3" x 2.5")

Price: $12.00/6

Item #: 63132

Size: Large (3.75" x 4")

Price: $12.00/5