Leather Rings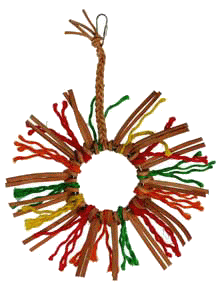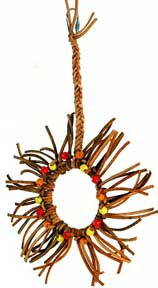 If your bird loves leather, this is a great choice for you! The vegetable tanned leather strips are braided to the ring (and if your bird loves braided leather, check out Batter Up). The large "ring" (4" inside diameter) alternates colored sisal with the wider/thicker leather strips. The medium (2-1/2" inside diameter) has all leather lacing (no sisal) but there are pony beads added for textures and bead busting fun! A nickel plated pear shaped quick link tops both sizes for for easy hanging!
If you are using this toy as a swing, always make sure swing size is appropriate for your bird!
The opening should be large enough for your bird's entire body to fit through!
Item #: 63095

Size: Large (14" x 12")

Price: $10.00

Item #: 63096

Size: Medium (12" x 8")

Price: $11.00

As with all toys that have rope, sisal, fabric and curly laces, PLEASE be sure to
check the toy daily for frayed edges and keep it (and your parrot's nails) well trimmed.