Cotton Cross Rope Perch
(3 sizes)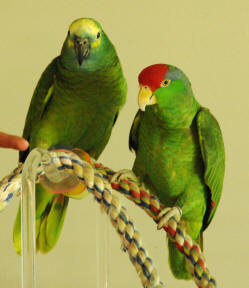 Sunshine (Blue Front Amazon) and Chico (Mexican Redhead) enjoy their rope perches outside the cage as a topper with their Donut Perch.
Very nice way to make the most of their avian real estate ... well done, Shelly!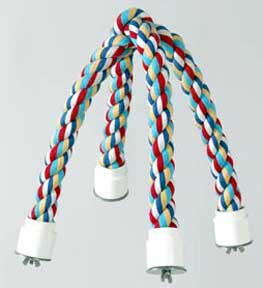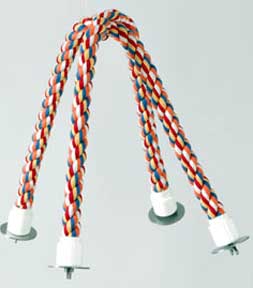 The cotton cross perch is very handy in the cage or get creative with them outside the cage!
Item #: 63064

Size: Small (27" x 1/2" Diameter)

Price: $10.00

Item #: 63065

Size: Med (26" x 5/8" Diameter)

Price: $13.00

Item #: 63066

Size: Large (26" x 1" Diameter)

Price: $20.00

As with all toys that have rope, sisal, fabric and curly laces, PLEASE be sure to
check the toy daily for frayed edges and keep it (and your parrot's nails) well trimmed.