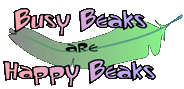 Lotsa Heart
(built on Stainless Steel)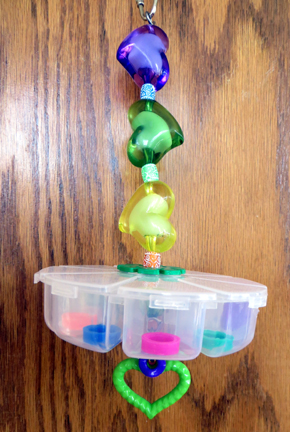 Lotsa Heart is a fun, foraging toy built on stainless steel wire with three large, heavy duty heart in heart beads on top, a foraging fun with separate compartments that you can stuff with their favorite goodies, a flower wheel, flower cap, bead in bead and a dangling open heart pendant with some ruffled beads for added texture, color and motion! Topped with a a nickel plated pear shaped quick link on top for easy hanging. This is a great introduction into foraging toy for your smaller to mid sized beaks!
If you love this toy but need a smaller size ... check out the smaller Lil Forager
Item #: 32063
Size: One Size (approx 9.5" Long x 4" Wide x 4" diameter)
Price: $8.25
Note: Each toy is individually handmade in the USA, colors, styles, beads and charms may vary from photograph.
As with all toys, please monitor your pets and make sure they don't actually consume non-edibles!