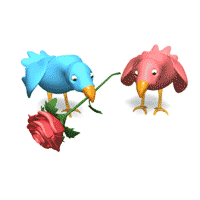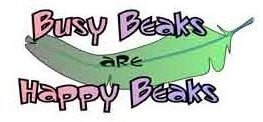 ---

August is Busy Beaks' 12th Anniversary. For us, this is a time to give "THANKS" for so many things in our lives! It seemed an appropriate time to remember those less fortunate. We feel very privileged to be able to share our lives with our feathered and furry companions! We typically run our "Share the Love" campaign annually, but with the economy being so weak, we felt that the various organizations preferred cash donations from their supporters; HOWEVER, we have had several requests to SHARE THE LOVE ... so this seems like a fitting time!
The entire month of August 2012, when you order any products to be drop shipped to a verified U.S. 501(c)(3) non-profit rescue or sanctuary, we will match your donation up to $100. So if you order $25, we will ship them $50 in products! We will enclose a packing slip with your name and mailing address and you will receive a tax deductible receipt for your donation from the recipient.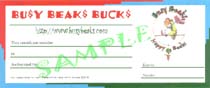 Rescues and/or sanctuaries typically have a "wish list." If you're unsure what to give them, ASK THEM what they need or give them a Busy Beaks Buck$ gift certificate and let them choose their own. (Yes, we will still match the amount of the gift certificate up to $100 when it is redeemed.)
Don't forget to forward this link to YOUR favorite rescue or sanctuary so they can spread the word to their own mailing list - it's a win/win! Many of them are already on file with us. Those that aren't can fax (936-344-8406) us a copy of their 501(c)(3) status along with their physical shipping address and contact information. You get a tax deductible donation, the U.S. 501(c)(3) non-profit organization gets double the goodies plus you get the satisfaction of knowing that you have helped those less fortunate while we get to share with you in the joy of giving! Thank YOU for helping us, help others!
---
This seems like an appropriate time to rerun an article written by Dr. Duffin regarding SPECIAL BIRDS ... click here. AND, although we wrote this article many years ago, we felt this was the perfect time to once again share it with you ... click here for article on rescues and sanctuaries.
Getting married, having a baby, moving, job transfers, etc. are NOT REASONS for abandoning your pet, they are EXCUSES. Pets are a LIFETIME commitment the same as children are a LIFETIME commitment. We don't get rid of children for these kinds of excuses ... we adjust our lives. Our pets deserve the same level of devotion.
---
May all YOUR Busy Beaks be Happy Beaks(TM)!
Jan, Gary & Maggie
Offer valid through August, 2012. This offer can not be combined with other offers, is limited to in stock items and normal shipping charges apply! Note: To maximize the shipping dollar, all orders will be combined and shipped the first week of September to all the rescues & sanctuaries.
---
Join us on Facebook ... www.facebook.com/busybeaks